Are you travelling to Faro for an Algarve escape soon? Have you started planning your holiday itinerary yet?
If you're looking for ideas and inspiration from local experts, Formosamar is here to help!
As a leading provider of boat tours in Ria Formosa from Faro, we love helping visitors have an unforgettable time in South Portugal.
So whether you're looking for things to do near Ria Formosa Natural Park or in the reserve itself, you can find some of our favourite recommendations below.
If any questions come to mind while you read, please don't hesitate to get in touch for the answers you need.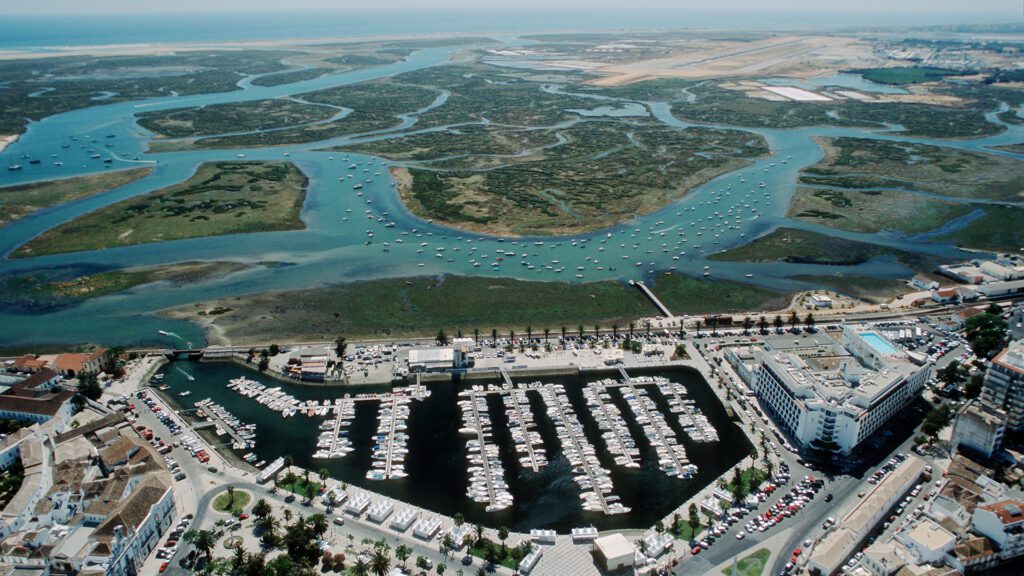 Explore Faro's Historic and Charming Old Town (Vila Adentro)
Wandering along the cobbled streets of Faro's enchanting Old Town is a captivating experience and a great way to immerse yourself in the local culture.
Admire the humble grandeur of the 13th-century Faro Cathedral, and climb the ancient medieval walls to get a different perspective of the city's beautiful tapestry.
Discover the picturesque, vibrant squares of Largo da Sé and Largo de São Francisco, where locals and visitors alike gather to enjoy the lively atmosphere.
Quaint shops and delightful cafes line the streets, perfect for indulging in some local treats.
Feel the city's heartbeat and let yourself be charmed by the unique blend of tradition and modernity.
Our electric bike hire in Faro is a great way to explore our city. Not only can you cover more ground, but you can do so in style and comfort!
Visit Deserta and Farol Islands and Find a Little Slice of Paradise
Ria Formosa is home to five barrier islands, but two of the most beautiful to visit are Deserta Island (Ilha Deserta) and Farol Island (Ilha do Farol).
Deserta Island (also known as Baretta Island) is aptly named as it feels like you've stumbled upon a deserted paradise.
You can find uncrowded, serene beaches, inviting you to dip your toes in crystal-clear waters or unwind in the untouched beauty of nature.
Farol Island sits immediately to the east of Deserta. This is a charming haven watched over by its iconic white lighthouse.
Soak up the sun on sandy shores, explore vibrant fishing communities, and savour the freshest seafood delicacies.
Time stands still here, and you'll find yourself enamoured by the simplicity and authenticity of life on these idyllic islands.
Our own boat tour to Deserta and Farol islands in Ria Formosa is the perfect way to visit these stunning spots in one expertly curated trip.
Enjoy Active Exploration with Paddleboarding and Kayaking in Ria Formosa
Calling all water sport enthusiasts! Ria Formosa is an aquatic wonderland, so there are plenty of opportunities to push out on some adventures.
With Faro paddleboard rentals and kayak rental in Faro at your disposal, the shimmering waters of Ria Formosa can become your playground.
Glide through tranquil lagoons, navigate gentle canals, and witness the park's vibrant ecosystem up close.
Brace yourself for laughter, breathtaking views, and the feeling of being at one with nature as you paddle through this magnificent natural park.
And be sure to keep your eyes peeled for a diverse range of bird species and marine life!
Soak Up a Sensory Experience in Olhão
Prepare to be enticed by Olhão, a charming fishing town a little under 20 minutes east of Faro by car.
This coastal gem is home to a bustling produce, meat, and fish market that spans two floors of a historic brick building.
There are plenty of local eateries in the market and the surrounding area, so be sure to treat your tastebuds to some of the best seafood dishes in the region.
If you have self-catering accommodation, this is also a fantastic chance to pick up fresh local ingredients for meals and snacks.
Wander along the waterfront promenade, where the sea breeze caresses your face and the captivating blue horizon stretches out before you.
Exploring the vibrant streets and soaking in the seaside atmosphere here is a truly authentic Portuguese experience.
When you've finished reading about the amazing things to do near Ria Formosa Natural Park, check out our tips for the best things to do in Faro!
Treat Yourself Like Royalty at Estoi Palace
Ready for a touch of opulence? Welcome to Estoi Palace, a neoclassical wonder just a stone's throw from Faro.
Step into the past as you roam the meticulously landscaped gardens, adorned with elegant statues and blooming flora.
The palace itself is a sight to behold, with ornate architecture and historic details transporting you to a bygone era.
Feel like royalty as you stroll through the halls, imagining the splendour of days gone by. Estoi Palace is a gem promising a truly regal experience.
Please note, the gardens are free to enter, but you have to pay a small fee to access the palace.
And after this taste of luxury, why not treat yourself to a visit to one of the best beaches in Faro?
Enjoy an Independent Adventure Cycling Ecovia Litoral or Via Algarviana 
Two wheels, endless adventures! Rent a bike in Faro and traverse either the Ecovia Litoral or Via Algarviana.
These fantastic cycling routes allow you to explore the best of Ria Formosa's natural wonders.
Ecovia Litoral follows the coastline, offering breathtaking ocean views and scenic fishing villages along the way.
On the other hand, Via Algarviana meanders through the picturesque Algarve countryside, showcasing the region's diverse landscapes and cultural heritage.
Hop on the saddle, feel the wind in your hair, and relish the freedom of exploring at your own pace.
These bike trails cater to both leisurely riders and seasoned cyclists, making it a perfect activity for all to enjoy.
Create Unforgettable Memories with Our Faro and Ria Formosa Tours!
We've barely scratched the surface of all the incredible things to do near Ria Formosa Natural Park, so there's plenty more to discover still!
You can find even more holiday inspiration by browsing our full range of boat tours in Ria Formosa from Faro.
And remember, we're always here to help with any questions you may have, so feel free to get in touch for more information.