Are you looking for inspiration for fun and fascinating days on your escape to the Algarve?
Whether you prefer holidays with action and adventure or a slower, more relaxed pace, you'll find what you're looking for here in South Portugal.
At Formosamar, we provide a wide range of boat tours in Ria Formosa from Faro, so we know this part of Portugal inside out.
But what exactly do we mean by unusual things to do in the Algarve?
Of course, every traveller has their own preferences and expectations, so we've focused on activities that provide a unique Algarve experience.
As such, they are not necessarily usual for visitors in the place they call home.
Scroll down to find our recommendations! And if you have any questions for us as you read, please get in touch.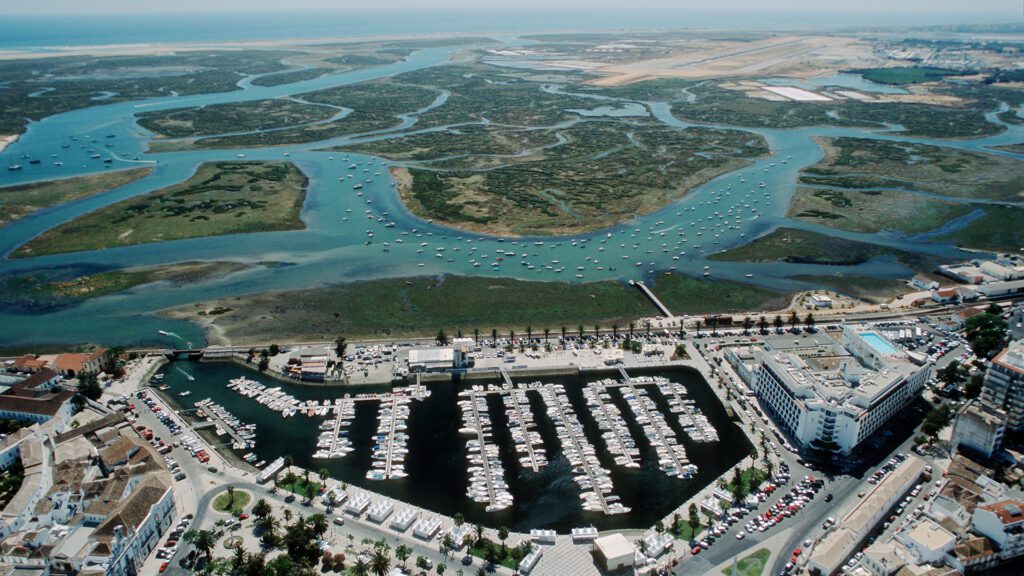 Set Sail on a Ria Formosa Sunset Tour
Ria Formosa Natural Park is a designated wetland of international importance made up of canals, lagoons, marshes, islands, and barrier islands.
It extends along the Algarve coast for 60 km, and Faro is the perfect base to explore it from.
The diverse flora and fauna, marine life, and migratory birds attract plenty of interest, and rightly so! But the sunsets here are simply spectacular too.
A sunset boat tour from Faro allows you to watch the sun dip below the horizon, painting the skies with warm hues, all while enjoying a glass of sparkling wine!
Don't forget to bring your camera; this is an Instagram-worthy experience you won't want to miss!
But there's so much more to sunset boat tours than the stunning skies.
One of our expert guides leads you through this delicate ecosystem, sharing fascinating insights about Ria Formosa and everything that calls it home.
Take in the Remarkable Sights at the Chapel of Bones
Prepare to step back in time and embrace a thought-provoking experience at the Chapel of Bones (Capela dos Ossos) in Faro.
This peculiar chapel is adorned with human bones and skulls; namely, those of Carmelite monks.
It may seem eerie at first, but the chapel is a profound testament to the region's history and the importance of preserving cultural heritage.
As such, it's both a poignant reminder of the transient nature of life and a significant part of the local community.
Exploring this hauntingly unique site provides a moment of reflection and appreciation for the wonders of the present.
For even more travel inspiration, be sure to check out our tips for the best thing to do in Faro!
Immerse Yourself in the Vibrant Olhão Market
For an authentic taste of Algarve culture and a burst of sensory delight, head east of Faro to the lively Olhão Market (Mercados de Olhão).
This bustling hub is a seafood, meat, and local produce bazaar set over two floors (inside and out) of a beautiful historic building.
It's also where fishermen bring in their fresh catch of the day, infusing the air with the scent of the sea.
Stroll through the market's vibrant stalls, interact with friendly locals, and witness the art of fishing as it has been practised for generations.
A trip here is a true gastronomic adventure! You can buy fresh produce to cook at your accommodation, enjoy a sit-down meal at one of the restaurants, and walk along the waterfront.
You might even learn a few words of Portuguese from the enthusiastic vendors!
Are you visiting us in the winter season? Find out what you can see and do at this time of year by reading the best things to do in the Algarve in winter.
Discover Ancient Traditions with a Salt Pans Tour
Step off the beaten path and into the ancient world of salt harvesting at one of the Algarve's many salt pans.
Known as salinas in Portuguese, these small salt basins have been a vital part of the region's history and economy for centuries.
For example, salt from the Algarve was exported to locations all over the Roman Empire. People even spoke about white gold from the Algarve.
And to this day, all it takes to make our famous pure, premium sea salt is ocean water, sun, wind, and human hands.
As you meander through the crystalline fields, you'll find yourself immersed in nature and connected to the Algarve's rich past.
Being on the coast has shaped our culture, and it also provides a gateway for fun and adventure!
If this sounds like your idea of a good time, find out more about the best watersports and boat tours in Faro.
Savour the Delicious Simplicity of Traditional Algarve Cuisine
If you want to treat your tastebuds to the Algarve's culinary treasures, seek out restaurants that serve authentic local cuisine.
From hearty cataplana (seafood stew) to spicy chouriço (sausage) and the intriguing percebes (gooseneck barnacles), there's a unique food experience waiting for you here.
As you savour these traditional dishes, you'll understand why the Algarve is a paradise for foodies!
Just some restaurants worth your consideration include:
Tertulia Algarvia
Ria Formosa Restaurant
Restaurant 2 Irmãos
Cafe Janoca (on Culatra Island)
Eating local cuisine is such a great experience that we included it as one of our recommendations for the best things to do in Faro at night.
Feel the Thrill of Stand-Up Paddleboarding and Kayaking in Faro
Seeking an up-close encounter with the pristine waters of Ria Formosa? Try a stand-up paddleboarding (SUP) or kayaking adventure!
Both of these activities offer a unique way to explore the serene beauty of this natural park.
With our Faro paddleboard rentals, you can glide through the peaceful lagoons at your own pace.
And while our kayak rentals in Faro allow you to explore on your terms too, you can also join a kayak tour in Ria Formosa.
One of our expert local guides will lead your tour group through the park's waters for a more in-depth and immersive experience.
Whichever option you choose, keep your eyes peeled for an array of colourful birdlife and marine creatures beneath the crystal-clear waters!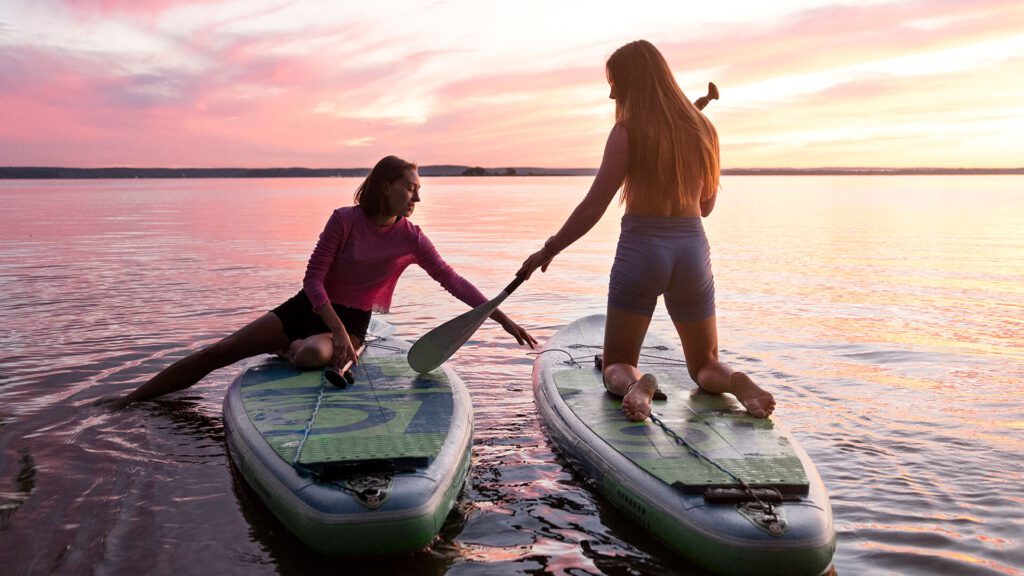 Gallop on Algarve Sands with Horseback Riding on the Beach
Embrace the romance and freedom of the Algarve's breathtaking beaches with a horseback riding experience.
Trot alongside the Atlantic Ocean, the salty sea breeze in your hair, and the sound of waves crashing on the shore.
Capture the spirit of the Algarve as you create memories that will stay with you long after the sand has settled.
Are you travelling to the Algarve for a couple's break? Read our previous guide Romantic Things to Do in Faro for even more holiday ideas.
Our Faro and Ria Formosa Tours Offer Authentic Algarve Experiences
We hope these unusual things to do in the Algarve have inspired you to start planning a holiday here in the south of Portugal.
And you can find even more incredible things to see and do by browsing our range of boat tours in Ria Formosa from Faro.
The Formosamar team is here to help, so please get in touch if you have any questions for us.