Are you dreaming of the Algarve's sun-soaked coastlines and gorgeous beaches? Do you want to explore its quaint villages, rich culture, and the breathtaking Ria Formosa Natural Park?
There's so much to see and do here in southern Portugal, and the kind of experience you can expect changes through the year.
But choosing the best time of year to visit the Algarve is a wonderful conundrum! Our home is a year-round treasure, so there are always incredible memories to be made here!
Ultimately, the best time to visit depends on your personal preferences. As a leader in Ria Formosa boat tours from Faro, let us use our local expertise to help make your decision easier.
Scroll down to find useful insights into what you can expect from the Algarve during the year. And if you have any questions in the meantime, please get in touch.
Visiting the Algarve in Summer: Sizzle in the Sun
If you're a fan of sun-soaked days and balmy nights, summer is your time to shine in the Algarve.
Clear skies and minimal rainfall ensure the perfect conditions for beach basking and water adventures.
Average high temperatures for this time of year range from 25°C to 30°C (77°F to 86°F).
Of course, this is the peak season as locals and visitors alike enjoy their summer breaks. Our stunning weather attracts visitors from all over the world, creating a lively and energetic atmosphere.
Naturally, this comes with busier beaches and tours, as well as a more vibrant nightlife. But generally speaking, August is busier than July.
Ria Formosa Natural Park is also alive with a remarkable range of flora and fauna during the summer, especially birdlife.
Some of the tours you can enjoy with us include the Ria Formosa Birdwatching Boat Tour, the Marine Life and Dolphin-Watching Boat Trip, and the Boat Tour to Deserta and Farol Islands.
Are you you looking for unique cultural events to enjoy too? Summer plays host to numerous local festivals, markets, and concerts throughout the region.
Just some of our favourites include Dias Medievais in Castro Marim (Eastern Algarve), Festival do Marisco in Olhão (a short drive from Faro), and Fatacil Fair in Lagoa (west of Faro).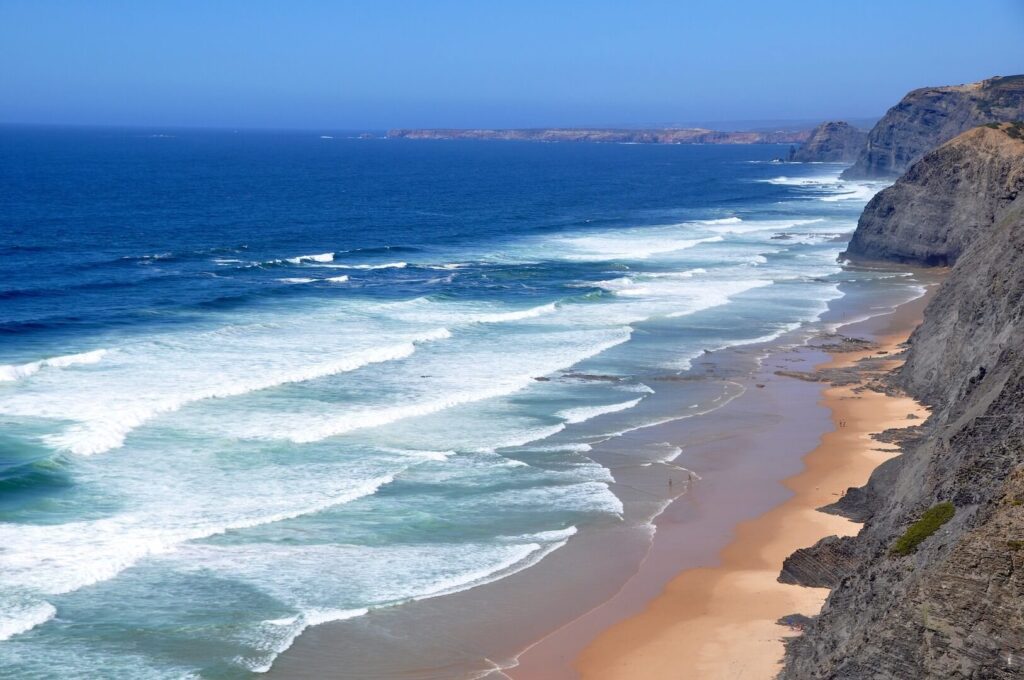 Visiting the Algarve in Spring: Nature Starts to Bloom
Springtime is a sweet spot for those who prefer mild temperatures. It's perfect for outdoor adventures without the scorching sun.
Average temperatures for this time of year range between 15°C and 25°C (59°F to 77°F), making it ideal for a Ria Formosa bike tour from Faro or a kayak tour in Ria Formosa.
Crowds are more manageable in spring compared to the peak summer season, so you can also expect a quieter experience.
As temperatures warm up from their winter lows, a myriad of bird species flock to Ria Formosa.
This natural wonder on our doorstep is a Ramsar Site (wetland of international importance) as it attracts a substantial amount of staging, breeding, and wintering waterbirds, including ibis and egrets.
Migratory birds journeying north join the resident avian population in the complex system of mudflats, dunes, sandbanks, saltmarshes, and Zostera beds, making Ria Formosa a birdwatcher's paradise.
Discover even more about this fascinating topic by reading our Birdwatching Guide to Ria Formosa.
Visiting the Algarve in Autumn: Harvest the Tranquility
Autumn is a transitional time of year, so there's a noticeable difference between the start and end of this season.
Early autumn still offers pleasant warmth, while later in the season, you'll experience milder and more comfortable temperatures.
Average high temperatures in early autumn are still around 25°C (77°F), but they become increasingly milder as the season progresses.
Much like spring, autumn sees fewer visitors as the summer peak drops off. This makes the season an excellent time to explore the Algarve at your own pace.
The combination of pleasant weather and smaller crowds is ideal for relaxing on a warm, quiet beach, exploring the Algarve's spectacular scenery, and diving into our rich culture and history.
Autumn is another migratory season for the bird species in Ria Formosa too. The spectacle of spring reverses. Birds that arrived a few months before make their way south again.
There's no better way to experience the bird migration season than on our Ria Formosa Birdwatching Boat Tour. Keep your camera ready to capture these magnificent creatures in flight!
Check out our Essential Guide to Ria Formosa Natural Park to discover even more about this extraordinary place before your visit.
Visiting the Algarve in Winter: Uncover Hidden Gems
Unsurprisingly, winter is the quietest time for tourism in the Algarve. Having said that, winters here are mild compared to many other European destinations.
So while it's cooler and wetter than other seasons, it's still suitable for exploration. Average highs across winter come in at around 15°C (59°F).
With fewer fellow tourists, you can delve into Faro's and the Algarve's historical and cultural attractions without the hustle and bustle.
Read our tips for the best things to do in the Algarve in winter for even more travel inspiration!
Our Rentals and Tours from Faro are Your Gateway to Ria Formosa
So, what is the best time to visit the Algarve? Well, that's up to you to decide now!
When you're in our magical part of Portugal, look no further than our Ria Formosa boat tours from Faro. Let our experts guide you through one of our country's seven natural wonders!
If you prefer independent travel experiences, you'll love our equipment rental in Faro, including bikes, e-bikes, kayaks, and paddleboards.
For more information about any of our excursions or rental options, please don't hesitate to get in touch.