With Faro at its heart, the Algarve is a beautiful region in southern Portugal filled with fun, adventure, cultural treasures, and fascinating history. But to explore everything you want to, you need to know how to get around.
As leaders in boat tours in Ria Formosa, we love showing visitors to our region its natural gem — Ria Formosa Natural Park. And as locals, we know all about getting around in our city and how to get to the best places further afield.
With that in mind, welcome to the Formosamar guide to Getting Around in the Algarve! Below, we look at some of the most popular ways to explore our region. This covers everything from fun ways to zip around villages and towns to intercity travel.
Let's get started! If any questions come to mind while you read this guide, please contact us.
Vehicle Rental in The Aglarve: Hit the Open Road with Freedom!
Let's kick things off with the most flexible and convenient way to explore the Algarve — renting a car! You can find car rental options at Faro Airport and in the city centre. We strongly recommend booking your vehicle online before you arrive, so all you have to do is pick it up!
This not only gives you peace of mind in knowing that your vehicle is reserved and waiting for you, but you will almost certainly get a better deal.
You can choose from a host of well-known names, including:
Sixt
Avis
Enterprise
Guerin
Europcar
Alamo
Hertz
Dollar
Centauro
Firefly
Once you've packed everything inside, you can set out on your adventures without any schedules or bus stops to worry about.
This gives you the freedom to discover hidden beaches, quaint villages, and breathtaking cliffs at your own pace. There's no better option for visiting the best off-the-beaten-path places in Portugal!
You may also want to consider scooter or motorcycle rental. These options are ideal for short trips and exploring beaches and narrow streets. Generally speaking, you will find scooter and motorbike rental places in towns and cities. If you take this route, always wear a helmet!
The two main roads that connect the Algarve's most popular destinations are the A22 (a highway with a toll) and the N125 (a slower road without a toll that's more scenic).
Important Information for Driving in Portugal
It's important to familiarise yourself with the rules and regulations of the road when visiting a new country, so take the time to do so with Portugal if you plan to rent a vehicle.
To help you get started, we have listed below some of the important information you must know when driving in our country:
In Portugal, we drive on the right-hand side of the road
Always carry a valid driving licence. If visiting from the UK, your licence will be accepted
If your vehicle is fitted with front and rear seatbelts, it is compulsory to wear them
When in tunnels or poor daytime visibility, you must use dipped headlights
It is compulsory to hold third-party insurance when driving in Portugal
It is illegal to use mobile phones when driving in Portugal
The above is only an introduction. Read even more Portugal driving tips here!
Public Transport in the Algarve: Cost-Effective Buses and Trains 
For those looking to explore the Algarve on a budget, the region's public transportation system is a fantastic option. Buses and trains connect most towns and cities in the region. These aren't just modes of transport, they are experiences.
When it comes to buses, there are three companies operating in the Algarve: Próximo,
Eva, and Frota Azul Algarve. You can buy tickets at bus stations. We advise having a small amount of cash on you to pay the fares.
Look for signs marked Paragem — these are bus stops! However, in larger towns and cities, the signs are written in English too.
If you're arriving at Faro airport and plan to take the bus to town, you need bus number 16 operated by Próximo.
Eva operates most intercity buses, but these do not have route numbers. As such, you should pay attention to display screens or check for destinations written on pieces of paper on the inside of the windscreen. Always check with staff if you're unsure!
As for trains, there is a railway line connecting Lagos in the west with Vila Real de Santo António in the east. Between the two, some of the stops include Portimão, Albufeira, Loulé, Faro, Olhão, and Tavira.
Some train stations aren't in the city centre, so make sure you check before travelling!
Looking for more ways to explore the Algarve without breaking the bank? Check out our tips for the best budget-friendly things to do in Faro.
Taxis in Faro and the Algarve: Quick, Comfortable, and Convenient
Taxis are readily available in Faro and throughout the Algarve. They're a great option for short trips, late-night rides, or when you want to get somewhere without the hassle of parking. Just keep in mind that taxi fares can add up, so if you're planning to explore extensively, it might not be the most budget-friendly option.
All taxis have a meter, so the amount you pay will depend on how far you travel and traffic along the way. Most taxis accommodate four passengers, so you will need to request a larger vehicle by phone if you need more space.
Bike Rental in Faro and the Algarve: Urban and Rural Adventures
If you're an eco-conscious traveller and enjoy exercise, consider renting a bicycle. The Algarve's flat terrain and mild climate make it an ideal destination for cycling. In addition to the stunning countryside, you can also enjoy riding along the EcoVia Litoral and Via Algarviana.
Many towns have bike rental shops, including our own! You can count on Formosamar for bike rental in Faro. And for an even more comfortable and easy-going experience, we also offer Faro electric bike rental options too.
The slow pace of biking allows you to savour every moment and truly take in the natural beauty around you.
Boat Tours to Ria Formosa and Its Islands: Connect with Nature
Now, let's talk about our speciality – exciting boat tours in Ria Formosa Natural Park! When you're in Faro, you absolutely cannot miss an excursion with Formosamar to this natural paradise and its islands.
Our expert guides will take you on a journey through this stunning coastal lagoon, where you'll encounter diverse wildlife, breathtaking landscapes, and crystal-clear waters.
We offer a variety of tours and packages. If you're a nature lover, consider our Ria Formosa Birdwatching Tour or the Marine Life and Dolphin-Watching Trip from Faro.
Do you want to visit the park's beautiful islands? Our Boat Tour to Deserta and Farol Islands is exactly what you're looking for!
Algarve sunsets are a sight to behold, and there's no better way to experience one than out in Ria Formosa. Sound tempting? We think you'll love our Sunset Boat Trip in Faro!
Kayak Rental in Faro and the Algarve: Paddle Through Paradise
Another fantastic way to explore Ria Formosa is by kayak. This up-close and personal experience allows you to navigate through the shallow waters and narrow channels, getting you closer to the natural beauty and tranquillity of the lagoon. 
Paddle through the maze of canals, observe birdlife, and take in the serene atmosphere. If this active adventure sounds like your kind of experience, check out our kayak rental in Faro.
Paddleboard Rental in Faro and the Algarve: Ride the Waves
For a mix of adventure and serenity, consider paddleboarding in the Algarve. It's an excellent way to explore the coastline and its hidden caves and coves. If you're new to paddleboarding, don't worry; you can find guided tours that cater to all skill levels.
The calm waters and stunning scenery make it a memorable experience, and it's an excellent workout, too!
Our own Faro paddleboard rentals are one of the best ways to explore and connect with Ria Formosa Natural Park.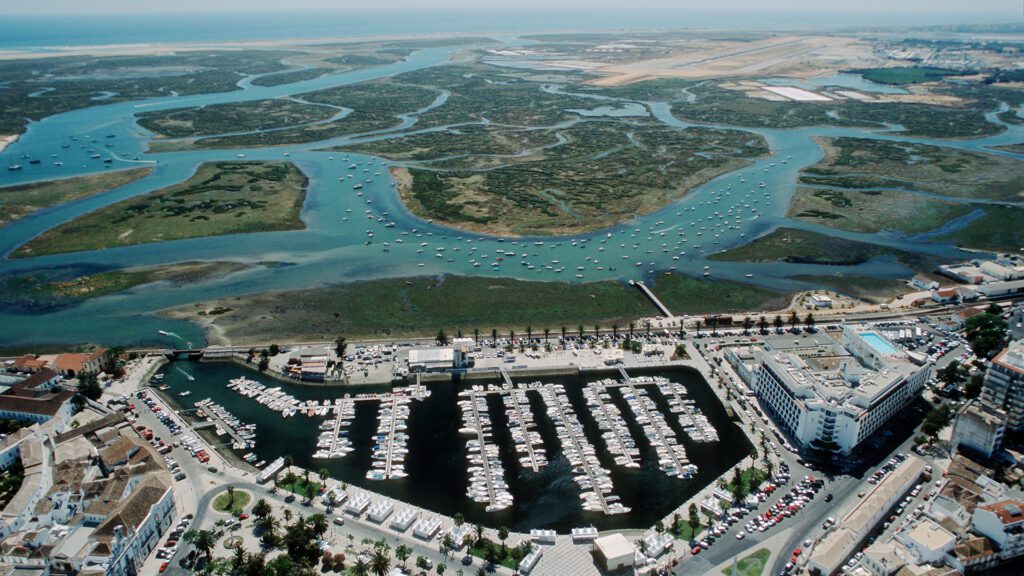 Immerse Yourself in Nature with Our Ria Formosa Boat Tours from Faro
We hope this guide to getting around in the Algarve has provided all the information you needed to take the next step toward your escape to southern Portugal.
Is a visit to the Ria Formosa Natural Park on your Algarve wish list? Browse our range of Ria Formosa boat tours from Faro and start planning an experience you'll never forget!
The Formosamar team is here to answer your questions, so please don't hesitate to get in touch for more information.