Unforgettable experiences in Faro don't have to stretch your holiday budget. In fact, you can find many activities to enjoy that are either fairly priced or completely free!
From historic sights to natural wonders, there's something for everyone to enjoy without breaking the bank.
The Formosamar team are your local, friendly experts in all things Faro. Whether it's on our boat tours in Ria Formosa or simply enjoying the place we call home, we love making the most of our charming coastal town.
So let us show you some of the best budget-friendly things to do in Faro that won't dent your bank account!
If any questions come to mind as you read, please get in touch for all the answers you need.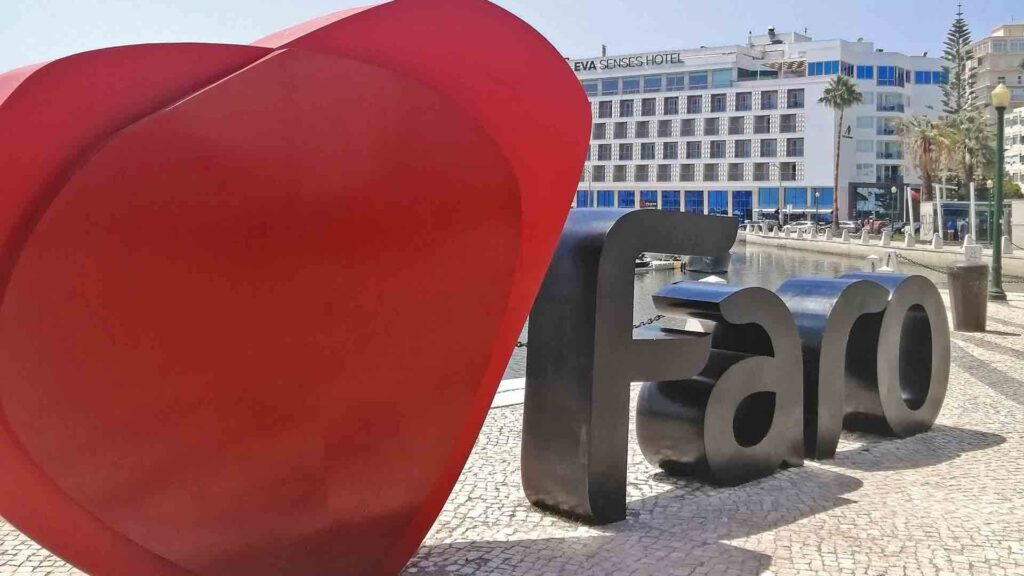 Explore Faro's Old Town Day and Night
Faro's Old Town (Vila Adentro) is a wonderful blend of history and culture.
During the day, lose yourself in the labyrinthine cobbled streets, where colourful buildings and charming squares await.
Admire Faro Cathedral's stunning, varied interior and fascinating history dating back to the 13th century. You have to pay a small fee to enter, but it's well worth it, especially as you can gain access to the top of the bell tower.
Then move on and marvel at Arco da Vila, a magnificent neoclassical archway leading into the Old Town.
Arco da Vila was built over a far older Moorish entranceway following a devastating earthquake in 1755. You can still see a well-preserved part of this original entrance to the city within the current arch, so keep your eyes peeled!
But don't stop exploring once the sun sets! Faro's Old Town takes on a whole new charm after dark.
The soft glow of streetlights and the lively ambience of local restaurants and bars make it the perfect place for an evening stroll and a relaxed dinner.
As the night unfolds, you might even stumble upon some delightful street performances—but more on these below!
Read our blog about the best things to do in Faro at night for even more ideas and inspiration!
Watch Out for Local Street Performances
Faro's Old Town comes alive with vibrant street performers who will add a touch of magic to your visit. These include traditional fado performances.
Keep an eye out for local artists, musicians, and entertainers who often perform in our city's streets and squares.
These talented individuals create a lively atmosphere and provide a unique cultural experience that won't cost you a penny.
However, if you enjoy their performances, consider leaving a small tip to show your appreciation.
Walk Around Faro's City Walls
The city walls of Faro are a remarkable relic that showcases its strategic importance through multiple centuries. Fortified walls were present here in ​​Roman, Byzantine, Moorish, and Christian times.
Today, the walls no longer create a complete ring, but what remains still surrounds the Old Town.
Three of the most noteworthy entrances in the city walls are the previously mentioned Arco da Vila, Arco da Porta Nova (connecting the Old Town and the seafront), and Arco do Repouso (in which you'll find the chapel of Nossa Senhora do Repouso).
You can't walk on the walls themselves, but you can stroll along the pathways and promenades that run parallel to them.
This is a great way to get to know Faro's history and to find some of the best views in the city, and it won't cost you a thing!
Are you looking for things to do in Faro on a couple's trip? We think you'll love our blog Romantic Things to Do in Faro!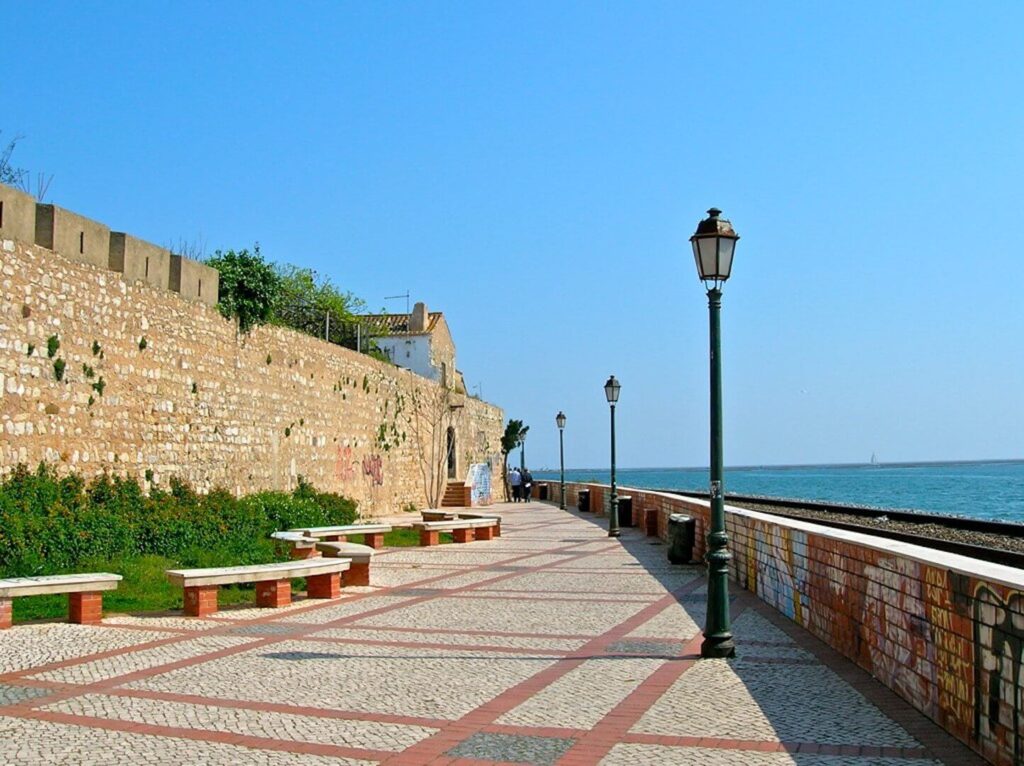 Enjoy a Boat Tour in Ria Formosa Natural Park
One of the absolute must-dos in Faro is exploring the stunning Ria Formosa Natural Park. This coastal wetland and Ramsar site is a haven for nature lovers and bird enthusiasts.
Now, we at Formosamar happen to know a thing or two about this extraordinary place!
We offer Ria Formosa boat tours from Faro that allow you to immerse yourself in the park's unique beauty.
Join one of our guided tours to cruise through the winding channels, spot wildlife, visit picturesque islands, and learn about the park's fascinating ecosystems.
Whether you're a nature enthusiast or simply seeking a peaceful escape, a Ria Formosa boat tour is an experience you won't want to miss.
Check out our Essential Guide to Ria Formosa Natural Park to discover more about this breathtaking place!
Make an Afternoon or Evening of It at Faro Marina
Faro Marina is the perfect place to soak in the maritime atmosphere and watch the world go by.
Take a leisurely stroll along the marina's promenade, where you can admire the boats bobbing in the water and breathe in the salty sea breeze.
While dining at some of the restaurants here might be a bit pricey, you can find budget-friendly options that serve up delicious, authentic seafood dishes.
Grab a table with a view, take it slow, and embrace the maritime charm without emptying your wallet.
If you feel the pull of the water while you're here, read our recommendations for the best watersports and boat tours in Faro.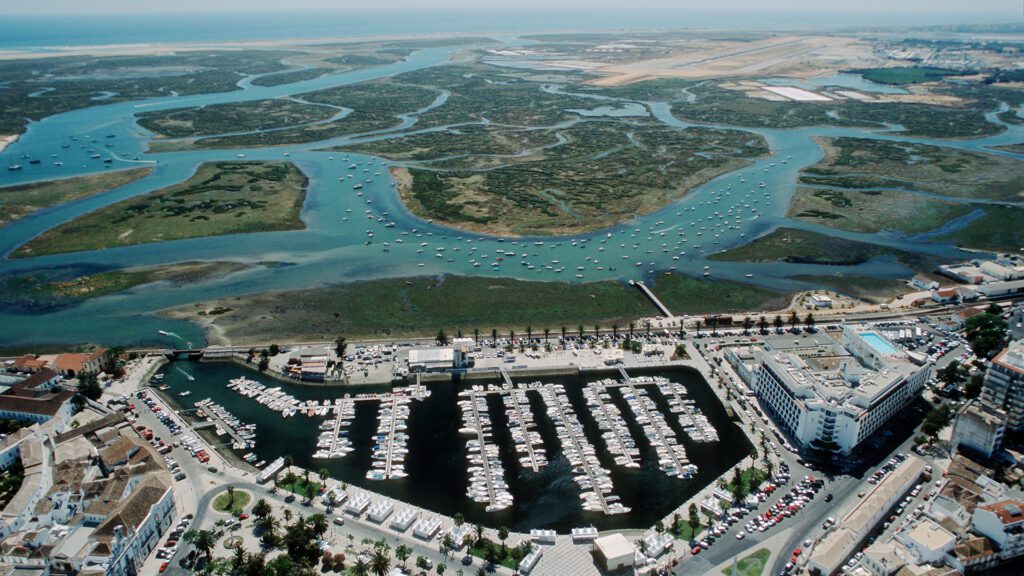 Head to One of Faro's Stunning Beaches or Islands
Faro is blessed with beautiful beaches and islands that won't cost you a fortune to visit.
Praia de Faro, easily accessible by a short bus ride, is a long, sandy beach that's perfect for a day of sunbathing and swimming.
For a more tranquil escape, consider a boat tour to Deserta and Farol Islands. These islands are at the southern edge of Ria Formosa and look out over the Atlantic Ocean, so they're among the more isolated in the Algarve.
In fact, the Cape of St. Mary (Cabo de Santa Maria) on Deserta Island is Portugal's southernmost point.
Remember, the journey to these beaches and islands can be an adventure in itself, offering you a glimpse of the local way of life.
Plus, the cost of transportation to these natural gems is budget-friendly, leaving you with more euros to spend on local delicacies.
If you want to put beaches at the heart of your Algarve experience, check out our picks for the best beaches in Faro!
Explore Faro and the Surrounding Areas on a Bike
If you're looking to explore Faro and its surroundings at your own pace, renting a bike is an excellent budget-friendly option.
Faro is a bike-friendly city and the pleasant year-round climate makes cycling enjoyable and comfortable.
At Formosamar, we offer bike rental in Faro on a half-day, full-day, and three-day basis. For even greater comfort, consider our Faro e-bike hire options!
Pedal your way through our city covering more ground than you possibly could on foot.
And why not head out on the Ecovia Litoral or Via Algarviana? Both of these beautiful cycling routes feature in our list of the best things to do near Ria Formosa Natural Park.
Renting a bike is an eco-friendly and wallet-friendly way to get around while staying active.
Experience the Algarve's Beauty on Our Ria Formosa Boat Tours
Now that you know some of the best budget-friendly things to do in Faro, it's time to start planning your visit!
Browsing our range of boat tours in Ria Formosa is the perfect place to start. This natural wonderland is right on our doorstep, so Faro is the ideal base for your exploration!
If you have any questions for the Formosamar team, please don't hesitate to get in touch.